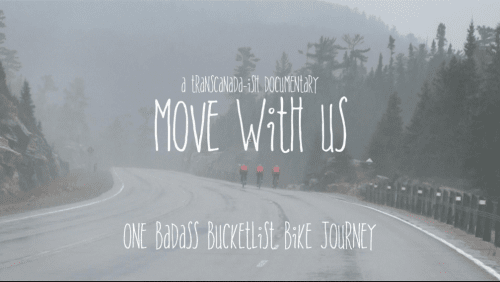 November 27, 2015, 3:46 pm
Last week, Thompson Toronto generously donated their Screening Room for two back-to-back screenings of the film "Move With Us – A Transcanada-ish Documentary". The film follows three Canadian men cycling from Vancouver to Toronto in the month of November to raise funds for Movember. The public event saw over 100 attendees visit the Screening Room and raised over $2,000 for Movember supporting men's health – adding to the $125,000+ already raised by the "Moustache Ride" team! Below, read an interview with one of the stars of the film, Jordan Gildersleeve.
Have you always been a bicyclist?
I've been biking to work for the last 5 years. Before the ride, I had never done more than a 30 minute bike ride.
How many kms in total did you cycle?
4,500. Approximately 130km / day
Where did you sleep? What was that like?
We slept in an RV almost every night! I person slept beside Kevin (one of the other three cyclists). It certainly wasn't exactly lemony fresh in there.
What does Movember mean to you?
Movember means a lot of things to me, but most of all it has brought attention to issues that previously weren't at the forefront despite their prevalence. My father also past away this last summer from colon cancer, so what these guys stand for is incredibly important to me.
Can you name a few of your favorite moments during the journey?
Having a few hundred kids from a school in Winnipeg, Manitoba send us off was an amazing highlight. Hitting our $100K fundraising goal was also a very special moment. We had dedicated 2 months of our lives to that goal, so hitting it was huge. We eventually got to $125K.
Do you have a favorite area that you visited during the trip?
Lake Louise was one of the most beautiful places I've ever seen. I'd never been there and we went there on a beautiful clear day. The Terry Fox monument was also a very special place for us.
Any wildlife encounters along the way?
Not really, but we meant a really strange man who gave us a beaver skull necklace (haha).
Any injuries?
Yes. Ben had a pretty bad fall and almost got run over by our RV. It was SKETCHY. Kevin was also hospitalized for a few days because of some intestinal issues caused by increasing our food intake so drastically so quickly. Sounds insane, I know.
What is your hope for the future of the Mo Ride?
No major plans to do any crazy rides. Ben, Kevin, and I are still best friends and I expect we'll eventually do the rest of the ride from Toronto to St. John's, Newfoundland.
Any new items on your bucket list?
I've always been intrigued by the El Camino de Santiago, an 800km walk in Spain.
This was such an amazing initiative inspired by your family and friends. Is your hope to inspire others to get more involved?
Absolutely. I hope this film inspires people to get involved with Movember, but also for people to not let the excuses not to do things get in the way of doing it. There were a lot of reasons why we shouldn't have done this ride (e.g., We had to quit our jobs, it was winter time), but I am so happy that we did.
What is the one thing you hope others will take from this film?
Movember is all about starting conversations about men's health. If people watch this film and talk to a few men in their lives about getting their prostate and colorectal examinations regularly and aren't afraid to take advantage of many of the mental health initiatives that exist to support men, that the film will be a great success.
One of NKPR's own, Tory Nash, is growing a moustache in support of Movember. To donate to his page, click here!