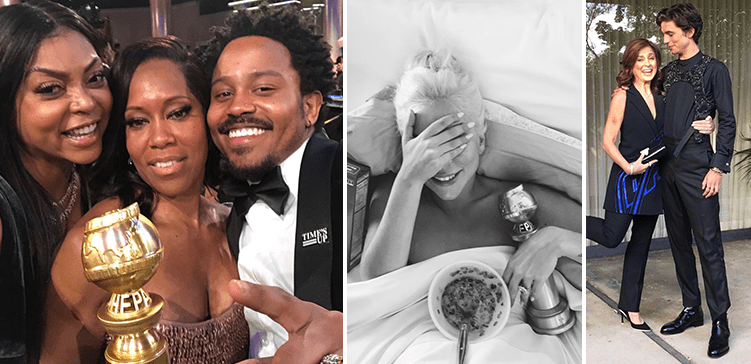 At last night's Golden Globe Awards the red carpet couture was next level and the winner's speeches were from the heart, but there were so many moments not captured on television. From selfies to breakfast cereal, here's a look at what you didn't see!
Lady Gaga had a sweet ending to her night celebrating her win for Best Original Song in bed with a big bowl of Fruity Pebbles!
Earlier in the night, Mark Ronson snapped this post-win selfie proudly showing off their statuette.
Julia Roberts had the right idea hitting up In-N-Out burger with hubby Danny Moder and sealing the night with a kiss.
https://www.instagram.com/p/BsUfe3bgBJX/
Taraji P. Henson gave Regina King some mad love on Insta sharing this selfie with the winner and her son Ian.
https://www.instagram.com/p/BsUcKndgciL/
Nominee Timothee Chalamet brought his proud mom as his date to The Globes (she also attended The Oscars with him last year) and they both looked incredibly stylish wearing designs by Virgil Abloh.
The Golden Globes Instagram account shared some beautiful black and white portraits with winners and presenters backstage.
Instyle shot some fun videos of stars in an elevator and things got cheeky! You'll understand once you've watched both of these…
https://www.instagram.com/p/BsUV-QalygD/
And Janelle Monae just looked cool (in Chanel), like usual.
https://www.instagram.com/p/BsUupBzlGUT/
Riverdale star Lili Reinhart got the E! glambot treatment and showed off her beautiful Swarovski earrings.
And before the night even started, The Marvelous Mrs. Maisel star Alex Bornstein had us laughing after she shared her Globes beauty prep.