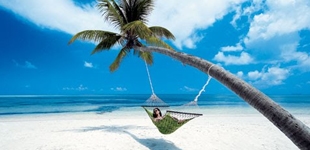 December 10, 2010, 7:52 pm
I've been working in Miami this week and I'm afraid to come back to the cold in Toronto—and it's not even that cold yet! Needless to say, the Miami vs. Toronto weather got me dreaming about my favourite places to hibernate when winter in the city gets really ugly. I asked around the office and it seems that I'm not the only one with winter getaway dreams. Here is where the NKPR team wants to escape to this year:
Kristin: "Maui. Because it's hot and there are lots of pineapples."
Marissa: "Aspen. It's one of my favourite places in the world. The mountains, the skiing, the hot tubs, the restaurants, the Dumb and Dumber references."
Katy: "Snowboarding on a big snowy hill like Squaw Valley at Lake Tahoe, California. I love to be active and while I don't love to be cold, nothing compares to cuddling by the fire after a long day on the hills."
Emily: "Ubud, Indonesia. Because of the sun, the monkeys and because I'm a show-off."
Sarah: "A ski trip… anywhere! This year, I could go for Whistler or the Swiss Alps. I wait all year to ski! (And après-ski.)"
Rebecca: "My dream winter getaway destination is the Maldives, even though I don't know how to pronounce it. I picked it because it follows my three rules of beach: white sand, turquoise water, and sun."
Cat: "Therme Vals in Switzerland. It's amazing. Mountains, warm baths, cold baths, hot baths outdoors, quartzite and snow…"
Bunmi: "London. Where I am most myself."
Nicole: "Panama. I'm having a Van Halen moment."
Jenna: "Nainital, India. This seems like the ideal place to be one with nature and take some breathtaking photos."
Lisa: "Paris. I can never get enough of Paris no matter what time of year!"
Jordan: "Switzerland for the great skiing!!!"
André: "Monaco. I've heard good things about it."
Jeannette: "My dream getaway would be Golden Eye, Jake's or Geejan, three of the Island Outpost resorts, located in Jamaica. All have secluded lagoon or beach cottages in walled-in, bohemian environments. Originally, Golden Eye was the home of Ian Fleming. He wrote many of his 007 books there."
What is your favourite winter getaway? Tweet me!
XO Natasha