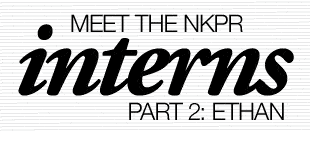 Summer always brings a fresh crop of interns to NKPR – and we're grateful for a few extra sets of hands, especially leading up to the Toronto film festival and the NKPR IT Lounge.
In return for bringing their enthusiasm and fresh ideas into the office, these aspiring PR stars get an all access pass to the inner workings of a leading boutique PR firm. It's a whirlwind course in creative communications, media relations and event production you just won't find behind ivy-covered walls.
Think you're up to the challenge? Get in touch to learn more about our internship opportunities.
***
Previously a male-dominated industry, in recent years PR has shifted with women now leading the charge at some of the world's leading agencies and firms. All we need to do is look around the office to see the evidence.
So no one was happier than former lone wolf André for the addition of Ethan Wright, the sole male intern at NKPR. Ethan's quickly proven a valuable source of insight on topics we're less-than-familiar with, like hockey, Street Fighter iPhone wallpaper and Motown.
Meet Ethan.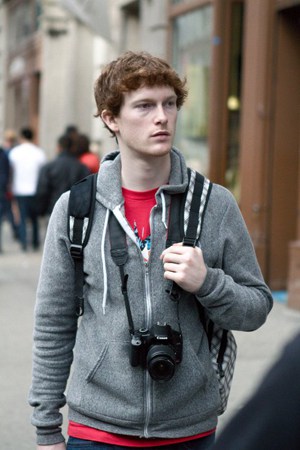 What are you studying and where?
"Environmental Science at Queen's University"
Why PR?
"Because trying to fix an environmental problem is one giant public relations nightmare! Best to start learning now!"
Salty or sweet?
"Sweet. Don't mess with my Cinnamon Toast Crunch."
Daily must-reads:
"The Toronto Star sports section and the Yahoo! Canada Puck Daddy blog."
What's the most exciting/bizarre thing that's happened to you at NKPR?
"The most bizarre thing that happens to me at NKPR (consistently) is my failure to pick up on female-centric pop culture references. Who knew that the Kardashians referred to a group of sisters and not just Kim's left and right butts?"
When you were a kid, what did you want to be when you grew up? How about now?
"I wanted to play goal for the Maple Leafs or become a lawyer. Only one is still realistic."
Facebook or Twitter?
"Twitter, because it's entertaining and a good news source."
What company, brand or product would you love to work on?
"TIFF because I'm a huge movie fan and it's one of the best film festivals in the world! And Aston Martin because, well, have you seen the DB9 Coupe? One day, one day…"
Favourite song-of-the-moment?
"Ain't That Peculiar", Marvin Gaye
What's your idea of happiness?
"Sitting on a Muskoka chair at the edge of a dock on a warm lake with a cooler full of cold beer and group of good friends."