We've kicked off the season with a flurry of events and activities here at NKPR. From dazzling launches to lively festivals and impactful exhibitions, our team has been hard at work, crafting unforgettable experiences that leave a lasting impression. With events embedded in our DNA, our personalized approach and strong client relationships allow us to meticulously curate each occasion. Keep reading for the inside scoop on the NKPR Spring Events Roundup!
NKPR Spring/Summer Preview: We welcomed industry friends to our showroom for an exclusive glimpse into the upcoming collections of our clients and partners, including Smeg Canada, Arc'teryx, MCM Worldwide, SOREL Footwear, Ellie Mae Studios, Tacit Collective, Back To Earth Skin, Joseph Ribkoff, Samuelsohn, and SS Tile and Stone. Throughout the day, we were energized and hydrated by our partners Ritz-Carlton Toronto, Pusateri's Foods, Purplesful Snacking, and Flow. We also set up a kindness station where guests could write heartfelt notes to bring a smile to the faces of the residents of the St. Felix Centre.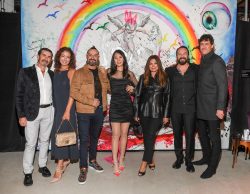 Divina Dali Exhibition and Gala: The Divina Dali Toronto exhibition launched with a Gala hosted by La Girafe en Feu. Guests experienced Salvador Dalí's vision of Dante Alighieri's Divine Comedy through 100 authentic artworks, including rare and never-seen-before pieces. The exhibit also showcased works from talented Canadian resident artists, Galerie Lisabel, Peter Triantos, and Telepoeme. It was an absolute honour to be part of this historical exhibit!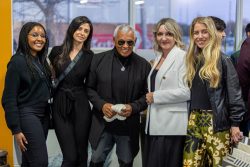 SS Tile and Stone X Design TO event: SS Tile and Stone and DesignTO hosted a spring social, providing a platform for Toronto's design community to come together, foster connections, and exchange inspiring ideas. Amidst delicious food from Freebird Market and fabulous beverages courtesy of Creekside Wine, guests had the opportunity to explore SS Tile and Stone's latest showroom offerings, making it the ideal occasion to welcome the arrival of spring.
Black + Blue Steak House opening party: The Glowbal Group's first Ontario restaurant recently opened its doors in Toronto's Financial district – the renowned steakhouse, Black and Blue Steakhouse!!! Executive Chef Morgan Bellis and his talented team pulled out all the stops, serving up some classic steakhouse dishes featuring the world's most premium cuts of meat from the famous Himalayan Salt Locker, the finest cuts of Kobe, Japanese A5 Wagyu, Canadian & USDA Prime and more! You have to go check it out in person, Black + Blue will definitely be your summer hotspot – make your booking now: https://www.sevenrooms.com/reservations/blackbluetoronto!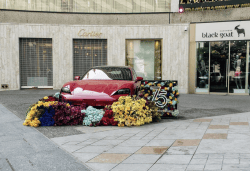 Fleurs de Villes Voyage: Fleurs de Villes VOYAGE in Bloor-Yorkville was an immersive floral experience that took you on an exciting journey through the neighbourhood. With 35 stops to explore, visitors discovered iconic global storytelling and floral displays that left you in awe. We loved how this year's theme honoured different cultures and traditions from around the world!  From floral-themed drinks and food along different points of the trail to captivating workshops, street performances, and fresh flower markets, there was an abundance of experiences for everyone to enjoy.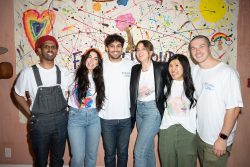 Ellie Mae X Kids Help Phone: Hosted by Ellie Mae Studios in support of Kids help phone, the event centered around #KidsHelpPhone's new message 'Feel Out Loud'! This special initiative brought together elementary school students in Toronto who expressed what 'Feel Out Loud' meant to them through art. Their incredible creations took center stage in a striking limited-edition collection featuring T-shirts, totes, and socks with a portion of the proceeds going towards Kids help phone. This event not only celebrated youthful creativity but also served as a powerful reminder of the importance of safeguarding and promoting mental well-being among our future generations. Over the course of their remarkable three-year collaboration, Ellie Mae Studios and Kids Help Phone have already raised an astounding $50K towards this cause. 
Vanessa Ferro Talk at Verity: Vanessa Ferro, the design maven behind Vanessa Ferro Design recently led a talk, presented by Living Luxe Magazine, at the Verity Social Club showcasing her incredible talent and expertise. Following her recent time at the Kips Palm Beach Decoration Show House, Vanessa shared insights and inspirations, tips and tricks for transforming your living space with character and colour, and mesmerized audiences with her passionate storytelling. Attendees were even gifted with a curated colour palette, a special token from Vanessa Ferro Design and Sherwin Williams, allowing them to infuse Vanessa's magic into their own spaces.
Toronto Life Best Restaurants X Adrak Yorkville: ​​Our client, Adrak Yorkville's exceptional dining experience has earned them a well-deserved feature in Toronto Life's esteemed "Where to Eat Now" issue. They proudly joined the ranks of 20 top-notch restaurants from the city that were honoured at Toronto Life's seventh annual Best Restaurants event held at Evergreen Brick Works. Their exquisite flavours and culinary mastery delighted over 1,000 hungry guests, making it a night of indulgence and celebration. Congratulations to the Adrak team for their recognition among Toronto's finest!